Google is the platform to find many things for people all over the world. It is used to search for articles, news, information, guidance, and many more, and also products. Many people go to Google and type "Shoes" and find the results, and they select the best product and purchase it. It is a widely used source along with shopping apps. So, when you search the products that are in your store on Google, how many of them show up to you in the results? 
Have you ever wondered about how the products are shown on Google searches? Were you confused about why your products weren't showing up in Google search results? Do you make handmade products?
Do you want your product ads also to pop up in the search results? Well, if you do, you are in the right place.
In this article, I would like to show you how Google takes some products to show in their search results and how you can make your own products to be appearing in the search results as well.
Massive GTIN problem in Google Merchant
Let's begin by talking about something called GTIN in Google Merchant Center. In the above image, we can see that the "% affected past clicks" for the highlighted product is 92%. This means, that other products of this kind had 92% more clicks over this product. The traction this product should have gotten has been given to other products and to other businesses. Why did that happen? Why did this product lose its traffic to other products?
Does One-of-A-Kind Identifier in Merchant Center Fix It?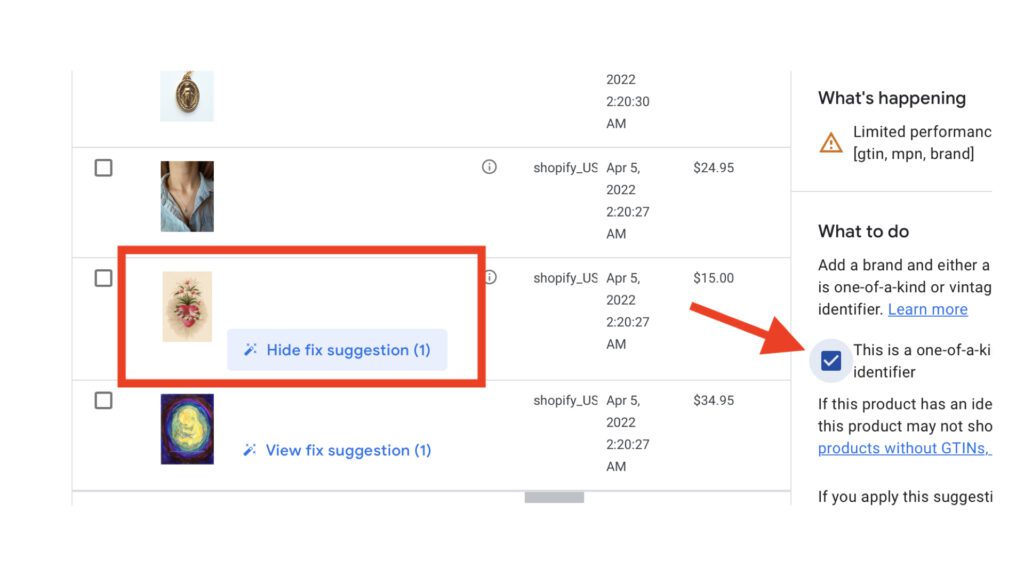 When your store is connected to Google, the Google Merchant Center uses your products to show them as ads and in search results for users who search for products. But not all products show in Google ads and search results, even though they are connected to Google. An example of such products is handmade products, which do not have any barcode, manufacture details, etc. So when we look at the Google Merchant Center, Google gives us suggestions on products that are not performing well. In this case, upon looking, Google told us that we do not have a GTIN, MPN, or a brand name for the product, hence, it is lagging behind. So we had to fix it.
It Should But it Does Not
We did the changes, we had given the products a number like SKU, and we tried to track the progress. For some unknown reason, it wasn't working. The traffic was still for other products. The suggestions Google Merchant Center was showing were still there. Then we tried to fix this from the other side.
Fix the GTIN Issues in Shopify Instead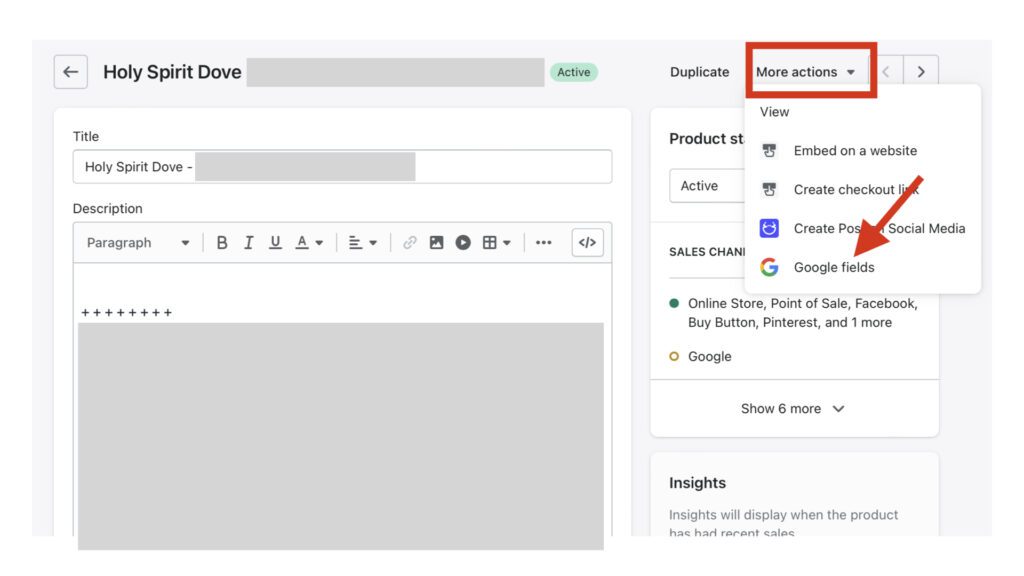 We went to Shopify and tried to find a solution, from the Google fields section in our Shopify, which is located in the drop-down box of "more action". we were able to land in the product identifier section.
Custom Product With MPN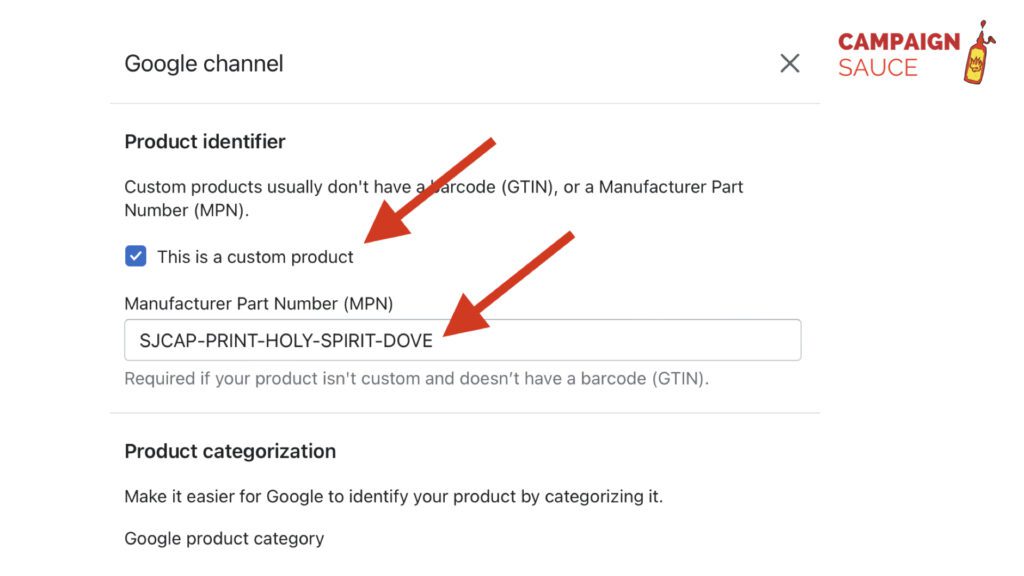 Once we found out about the product identifier section. We checked in for the box: This is a custom product. We had come up with a "Manufacturer Part Number" for the products we had in the store. This MPN we came up with here is a basic SKU type number, it is not a perfect code for the product, it is a unique code we have come up with for the product.
If you do not want a random unique code for your product, there is a systematic approach we follow for creating SKUs for our products, and we have added the SKUs for the 1200 products of this store in bulk, so that is a secret sauce of our business.
Google Merchant Center Recognized Fix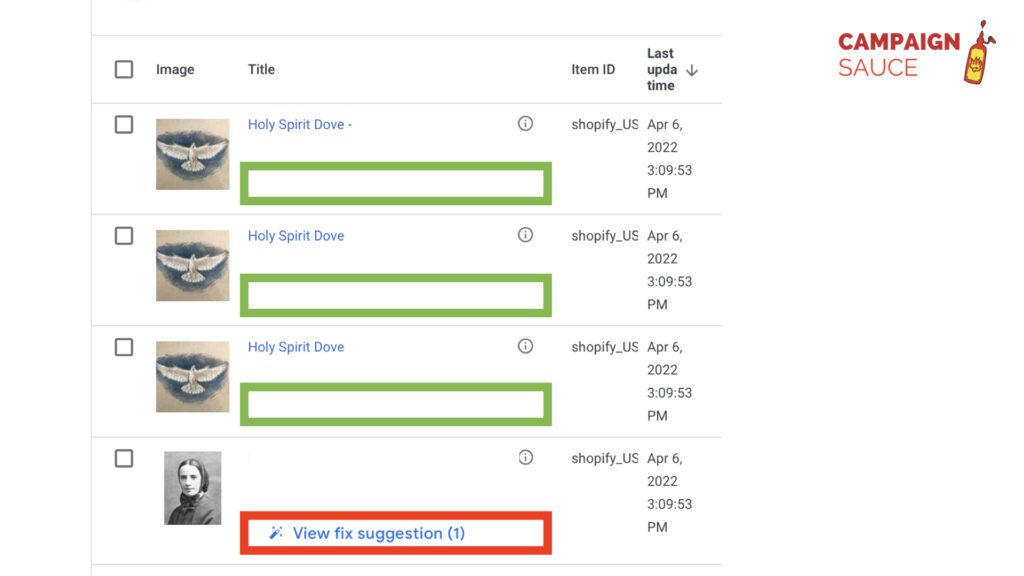 After we added the SKU kind codes for our products, we waited for a couple of weeks for the results to reflect on our side. Guess what? As you can see in the above image, the performance has increased for the product that Google had removed its flag, and suggestions tag. The one which still shows suggestions is the product we didn't put a code to. So this was working and making sure that our products are also shown in the Google search results.
Customer's Cash Register Shows Success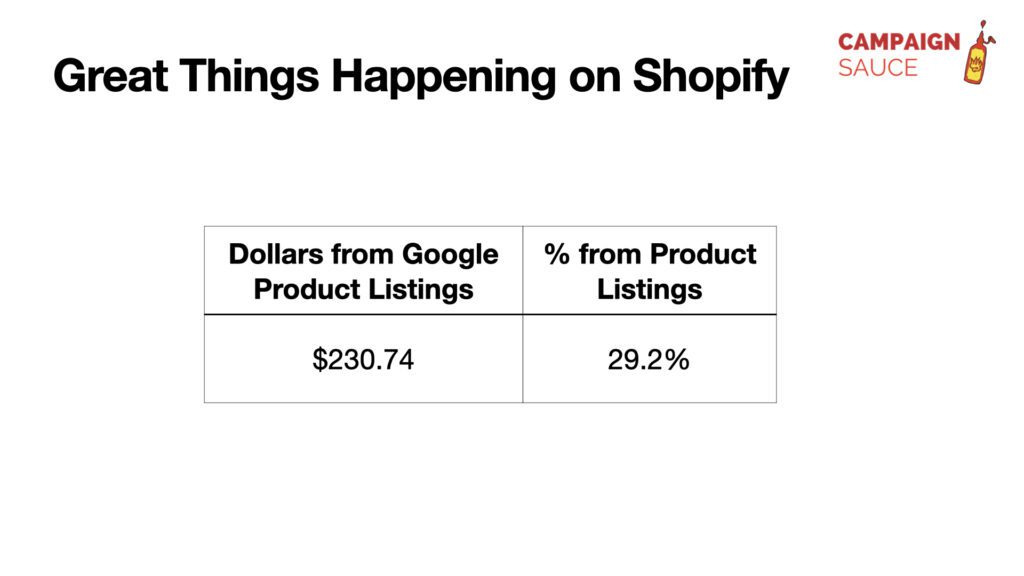 After the tweaks have been made, the results that came out were tremendously impressive.  Twenty-nine (29%) percent of the revenue of one particular day has come from the products that were found in Google on an organic search, now this is a very great change that we were able to produce for our client.
At campaign sauce, we have many more advice, suggestions, and solutions for your store's development and performance enhancements.
What we discussed here is just one concept, we have the secret sauce to make your business done with much more ease and efficiency.
Reach out to us for any guidance and ideas for your business to grow and succeed more.